Reimagining Education
At Sri Desa, we reimagine education by enabling every student to articulate a realizable vision for themselves. We seek to create a seamless pathway for lifelong learning by encouraging each unique learner to reach their full potential. To reimagine learning, we aim to reflect on what we know about learning, our students, the new role of technology and the complexities of an unknown future. Reimagining Education outlines a vision to empower our students with the skills, attributes and knowledge to thrive in today's complex world.
Testimonials
"I really like how Sri Desa has incorporated real life skills and knowledge into their programme so that students will be better prepared for their future. Adrian is now excited to go to school and enjoys the hands-on learning that takes place."
Mrs Yong (Parent)
"Since joining Sri Desa a month ago, my children have improved in their learning skills. They are happy studying at Sri Desa as the facilities and environment are good."
Mrs Foong (Parent)
"Sri Desa has great teachers and a good environment, with classrooms of the right size. Activities like sports and mental health talks are also done well – looking forward to more!"
Vivian (Parent)
"Congrats to Sri Desa on setting up online learning before school holidays in anticipation of the MCO. Also really appreciate the teachers' efforts to work out of the norm to execute the online teaching. I kinda follow some of the classes too!"
Rebecca (Parent)
"I would like to thank Sri Desa for the fee adjustment due to MCO. It is greatly appreciated at this difficult time especially when other businesses have either increased prices due to rising costs or simply ignored the struggles of families trying to make ends meet."
Sandie (Parent)
"I really appreciate how the teachers are all doing their part in continuing to educate the children with the same commitment and passion except it is now done via a screen. I sat in most of the class sessions and the teachers are all doing an incredible job. I also learn new knowledge while sitting through it! Everyone is going through a change and let's get this through together. Keep up the good effort Sri Desa!"
Irene (Parent)
"Sri Desa has done very well in terms of the speed and willingness to pivot to online classes despite the short notice of the MCO. The teachers are successfully pulling it off, and continuing to innovate as the weeks pass. Well done!"
Francis (Parent)
"My daughter is very happy with the online learning. No problem with understanding the lessons so far. As her mother I am happy as all work must be submitted on the same day and if she fails to submit as required, I will be immediately notified. Thanks to Sri Desa for the online learning has come in very handy. "
Punitha (Parent)
"We like the fact that the school is well equipped with the multi purpose hall and science lab and students do not need to travel for outdoor activities. Yong-En is happy with the teachers and the teaching methods."
Mrs Leong (Parent)
"We are very happy with the progress Wei Fei has made in Sri Desa, thanks to the teachers who are able to communicate with the students well. She really enjoys the interactive teaching style and now even applies what she has learned at home!"
Mr Chow (Parent)

"In my opinion, Sri Desa is a very good school, one of the best. The teachers are very kind, the learning is fun, and the CCA system is actually fun. Plus, it's also very affordable for an international school in Malaysia!"
Moses Lu (Student)
"This school is really good, the teachers here are very nice and helpful, and the school is well equipped with all the necessaries. Our teachers are very dedicated in their work and always try to find ways for us to understand better. Besides focusing on academics, we also have core-curriculum activities every once a week. I really learn a lot here and this school helps me to build up by leadership skills. Like Albert Einstein once said, "Education is not the learning of facts, but the training of the mind to think."
D'leene Douglas (Student)
"Where legends are born. Teachers are mainly locals so they can connect with students easily. Education is the key to success in life, and teachers make a lasting impact in the lives of their students. The environment is just optimum to study. If you are looking for a good school, visit the school at Faber Tower, Taman Desa."
Choong Zheng Xuan (Student)
"I personally think that this school is amazing, and it's more affordable compared to other schools. It has good facilities and amazing teachers. The staff here are very friendly and kind hearted, making it easy to approach the teachers and ask for help. As they say, with every successful student there's always a teacher to support."
Polensky Hue (Student)
"The school has made a change in my life. It made me make a lot of new friends and I finally am out of my comfort zone. As the school is small we often participate in many events such as Ausmat Pitch Competition and Kangaroo Maths Competition. This is a good and affordable school."
Priyaa Thiru (Student)
"I love the teachers over here!! They are very experienced teachers and help the students to get the best results they can. I've been in this school for around 4 years and my results are gradually getting better over the years! If you are looking for a school, do check out this amazing school!!"
Ku Zhen Heng (Student)
"Growing up in this school makes me feel very happy. I enjoy learning in this school. I love my friends and my teachers. This school is much cheaper compares to other schools and have the best teachers xoxo."
Wong Yet Le (Student)
"Sri Desa is well equipped and the teachers are very helpful. The school fee is affordable. The school offers a variety of events. For example, Sunway Ausmat Pitch Competition, Kangaroo Math and Mental Health Talk. :)"
Fu Ke Xin (Student)
"This school is very cool. There are many facilities available, students are provided with a lot of study materials. The students here are very kind and caring. We have so many activities to do, like the annual camp."
Arunesh Balakkrishnan (Student)
"I like this school and I can learn new things everyday."
Wong Khang Zhou (Student)
"Working out relieves us of stress. I enjoy the online PE sessions as I get the chance to see my friends and teacher. I hope everyone is coping well at home during this MCO and I would like to thank the teachers for the good work they have put in to make everything happen!"
Darren Pan (Student)
"We played Bingo for our Science revision which was both enjoyable helpful as it makes learning easier. I really appreciate our teachers for thinking out of the box to come up with fun activities to help us better understand the topics. Keep up the good work, teachers!"
Kayson Leong (Student)
"For Biology revision, we created digital posters to aid visual learning. Mine was on the flow of energy, which I found interesting because I got to do some designing – a breath of fresh air! I think my teachers have worked very hard during the MCO period and would like to appreciate all their efforts."
Ng Wei Yi (Student)
Board of Governors
Robinson Pan, Chairman
MBA, University of Strathclyde, UK
BA (Econs), University of Malaya
Certificate in Training & Development (CITD), UK
A former Managing Director of a public listed company, Mr Pan sits on the Board of Directors of a few companies with particular interest in education and investment holdings. Outside his professional undertaking, he is active with youth development and charitable work.
Janice Saw
MA (Applied Linguistics), NTU, Singapore
BA (English Language), NUS, Singapore
Prior to her appointment as Head of English in the Australian Matriculation programme, Janice was based in Singapore for over a decade, teaching GCE O Level English and obtaining her Masters in the process. With her teaching and leadership experience within a wide range of educational settings, she strongly believes in equipping students to learn and thrive beyond the classroom. Janice is a proponent for nurturing the full potential of students through research-based practices and the successful integration of technology in education.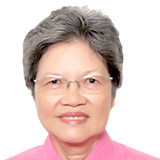 Choo Boo Cheng
MSc (Guidance & Counselling), UPM
Bachelor of Nursing, RMIT Australia
After retiring as Principal of Mahkota Medical Centre Nursing College, Choo continued her education career as Lecturer and Student Counsellor at HELP University for eight years. With her vast experience in education and counselling, Choo oversees our programme to support student mental health and well-being.
Oon Kwang Eng
LLM (Master of Laws), University of Leeds, UK
PgDip Legal Practice, University of Exeter, UK
BA (Econs), La Trobe University, Australia
Oon began his career in financial technology as the first employee for Bloomberg L.P and was responsible for setting up the operation in Malaysia. Based in Singapore since 1998 working at the regional headquarters of Microsoft and Google Asia Pacific, he is a successful leader in areas of digital transformation, commercial and leadership management. He is passionate about enabling our youth with the skills for the future workplace.
Our Vision And Mission
Vision
We aim to be a leading provider of the Cambridge IGCSE
curriculum.
Mission
We are committed to:
Equipping our students to excel in the Cambridge IGCSE examinations
Cultivating essential life skills and attitudes necessary for holistic development
Providing a safe, conducive and engaging learning environment
Reimagining education to prepare our students for the future workplace
Our Philosophy
At the heart of Sri Desa's philosophy is the firm belief that all students can achieve success by developing the whole person. Each aspect of our programme is based on The Four Pillars of Holistic Development, carefully designed to nurture the full potential of every child.

Intellectual

Wisdom
Creativity
Intellectual Curiosity
Critical Thinking
Digital Literacy
Physical

Health
Nutrition
Fitness
Strength
Stamina
Social

Camaraderie
Emotional Intelligence
Effective Communication
Leadership
Teamwork
Moral

Grit
Empathy
Gratitude
Respect
Integrity
Our Motto
Our motto 'per angusta ad augusta',
meaning through difficulties to honours,
underscores the significance of grit and perseverance as key to success.
Our Emblem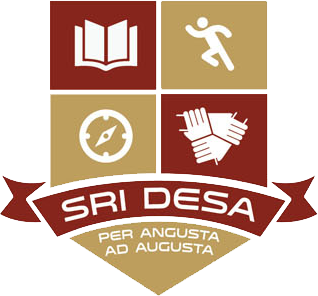 The Sri Desa emblem epitomizes our philosophy, with the shield representing Sri Desa as a defender of the Four Pillars of Holistic Development as symbolized by the four icons: the open book (intellectual rigour), human body (physical fitness), joined hands (social skills), and compass (moral values).The colour gold represents wisdom and generosity while maroon represents perseverance leading to triumph.
Ultimately our motto underscores our philosophy, which is to lead our students from difficulties to honours (per angusta ad augusta).