Perseverance. Empathy. Communicative abilities. Problem-solving skills. Teamwork. A strong command of the English language. Global awareness. Such are but some of the values and core competencies a child will need in order to excel in the world.
At Sri Desa, we are parents too. Committed to providing quality education at an affordable fee, we offer the internationally recognized Cambridge IGCSE (O Level) curriculum in a safe, conducive and engaging learning environment. Indeed, we aim to be more than an IGCSE homeschooling or tuition centre in KL.
We have chosen Faber Towers, a newly refurbished corporate office in Taman Desa, Kuala Lumpur, as our premise. Adjacent to Faber Towers is a full sports facility that includes a running track, football field, futsal court, basketball court and badminton courts where students can participate in sports and physical activities essential to their physical, social and character development.
In particular, technology is at the forefront of our IGCSE curriculum. By adopting the best practices and integrating ICT into our classrooms, our students will acquire 21st century skills and learn to think in creative and collaborative ways.
With a carefully designed and affordable IGCSE programme run by qualified and experienced teachers who genuinely care, you can be assured that your child will be well equipped for any pre-university programme in the future and beyond.
Testimonials
"I really like how Sri Desa has incorporated real life skills and knowledge into their programme so that students will be better prepared for their future. Adrian is now excited to go to school and enjoys the hands-on learning that takes place."
Mrs Yong, mother of Adrian
"We like the fact that the centre is well equipped with the multi purpose hall and science lab and students do not need to travel for outdoor activities. Yong-En is happy with the teachers and the teaching methods."
Mrs Leong, mother of Yong-En
"Since joining Sri Desa a month ago, my children have improved in their learning skills. They are happy studying at Sri Desa as the facilities and environment of the centre are good."
Mrs Foong, mother of Poh Yi & Siew Hong
"Sri Desa has great teachers and a good environment, with classrooms of the right size. Activities like sports and mental health talks are also done well – looking forward to more!"
Vivian, mother of Victor
"We are very happy with the progress Wei Fei has made in Sri Desa, thanks to the teachers who are able to communicate with the students well. She really enjoys the interactive teaching style and now even applies what she has learned at home!"
Mr Chow, father of Wei Fei
Management Team
Janice Saw, Principal
MA (Applied Linguistics), NTU, Singapore
BA (English Language), NUS, Singapore
Ms Saw was in Singapore for ten years, teaching GCE O Level English and earning her Master's degree in the process. After returning to Malaysia, she was the Subject Head for English at Sunway College before being headhunted to be the Principal of Sri Desa. She strongly believes in empowering students to learn beyond the classroom and is inspired to nurture their full potential through research-based practices. She also has a strong background in youth and community engagement projects.
Robinson Pan, Programme Director
MBA, University of Strathclyde, UK
BA (Econs), University of Malaya
Certificate in Training & Development (CITD), UK
A former Managing Director of a public listed company, Mr Pan sits on the Board of Directors of a few companies with particular interest in education and investment holdings. Outside his professional undertaking, he is active with youth development and charitable work.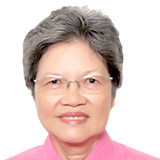 Choo Boo Cheng, Counsellor/Student Affairs Director
MSc (Guidance & Counselling), UPM
Bachelor of Nursing, RMIT Australia
After retiring as Principal of Mahkota Medical Centre Nursing College, Mdm Choo continued her education career as Lecturer and Student Counsellor at HELP University for 8 years. In her free time, she enjoys bird watching and caring for her grandchildren.
Oon Kwang Eng, Director
LLM (Master of Laws), University of Leeds, UK
PgDip Legal Practice, University of Exeter, UK
BA (Econs), La Trobe University, Australia
Oon has held various executive roles for multi-national corporations covering sales, operations and commercial business management. He is passionate about people development with particular interest in technology and helping young execs develop skills for the future workspace.
Our Teachers
English
Ms Nicole, a Linguistics major from UPM, has over 9 years of experience as an English teacher. Seeing herself as not just an educator, but also an influencer, she also heads the Literature Appreciation Programme where students are guided to dissect and critique literary works while appreciating the beauty of language.English
Ms Angel, with a Masters of Education in TESOL from University of Southern Queensland, Australia, has 8 years of experience as an English teacher. She strongly believes that encouragement and determination incorporated into teaching will be able to bring students to their highest potential.

English
Ms Sharon is an experienced and qualified IGCSE English teacher with a Degree in Education, majoring in English, and Masters in Counselling. With her interesting teaching methods and focus on student training and mentoring, she encourages her students to go the extra mile.
Science
Ms Charmaine was a Biology lecturer at Methodist College before she pursued her Masters in Molecular Biology, during which she taught IGCSE Biology at an international school. She also has experience teaching Mathematics at the secondary level.
Science
Ms Anna is a Science teacher armed with a Masters in Molecular Biology. She has been teaching IGCSE Science for the past four years and is especially enthusiastic about her research on developing DNA markers for the detection of infectious diseases.
Science
Ms Pria, formerly a teacher from an international school, has a strong educational background with a Masters of Science in Medical Microbiology from UPM. She has been teaching IGCSE Sciences and English for the past five years and is committed to seeing her students strive for excellence in every area of their lives.
Science & Mathematics
Ms Samantha, a former engineer graduated from UPM, transited into teaching IGCSE Science and Mathematics and has not looked back ever since. She enjoys motivating and guiding students, and her classes reflect that joy and zeal!
Mathematics
Mr Jefferey graduated with a Mathematics degree and was previously the Head of Department in a private college. Prior to that, he was an IGCSE Mathematics & Additional Mathematics teacher at an international school. He is also a Toastmasters Competent Communicator.
Mathematics
Ms Annora, an Economics major from the University of London International Programme, has taught IGCSE Mathematics for over 8 years. Also an avid photographer, she heads the New Media club, notching up the creative skill set of our students.
Business Studies
Ms Suganthi, armed with an MBA from UUM, has lectured in private colleges at the college and degree levels. Her students appreciate her ability to connect IGCSE business theories to the real world and teaching with patience and clarity.
Malay
Ms Joyce is a qualified language teacher who has been teaching for the past four years. Formerly a government school teacher with excellent reviews on her interactive teaching style, Ms Joyce has undergone the Cambridge teaching qualification (CICTL) and continues to inspire our students in their quest to pick up IGCSE Malay. Ms Joyce is also our CCA Coordinator.
History 
Ms Kay, a Universiti Malaya graduate in History, has vast teaching experience of over 28 years in government and international schools. A highly qualified and proficient teacher, she also trains teachers for Cambridge IGCSE subjects in humanities from the primary to secondary levels.
Accounting
Ms Grayce, a Business major from Charles Sturt University (Australia), has been teaching IGCSE Accounting for over 15 years as well as supervising seminars and tutorials. Her constructive and effective teaching methods promote a stimulating learning environment her students truly appreciate.
Information & Communication Technology (ICT)
Mr Jega, an ICT lecturer with a degree in Computing, has more than eight years of teaching experience. He has also tutored international school students in IGCSE ICT for more than ten years as well as given ICT corporate training for adults. With his vast experience, he is able to guide students in their academic endeavours from a practical and current viewpoint.
With a teaching faculty of qualified and experienced teachers who are also passionate and like-minded in sharing our philosophy of holistic development, we are confident your child will have a meaningful learning experience with us.
Our Vision And Mission
Vision
We aim to be a leading provider of the Cambridge IGCSE (O Level) curriculum.
Mission
We are committed to:
Equipping our students to excel in the Cambridge IGCSE (O Level) examinations
Cultivating essential life skills and attitudes necessary for holistic development
Providing a safe, conducive and engaging learning environment
Our Philosophy
At the heart of Sri Desa's philosophy is the firm belief that all students can achieve success by developing the whole person. Each aspect of our programme is based on The Four Pillars of Holistic Development, carefully designed to nurture the full potential of every child.

Intellectual

Knowledge
Creativity
Intellectual Curiosity
Critical Thinking
Wisdom
Understanding
Discernment
Physical

Health
Nutrition
Fitness
Flexibility
Strength
Stamina
Endurance
Social

Emotional Intelligence
Effective Communication
Interpersonal Skills
Leadership
Teamwork
Moral

Character & Values
Grit
Empathy
Gratitude
Respect
Integrity
Self-Control
Our Motto
Our motto per angusta ad augusta,
meaning through difficulties to honours,
underscores the significance of grit and perseverance as key to success.
Our Emblem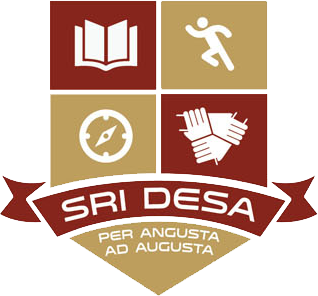 The Sri Desa emblem epitomizes our philosophy, with the shield representing Sri Desa as a defender of the Four Pillars of Holistic Development as symbolized by the four icons: the open book (intellectual rigour), human body (physical fitness), joined hands (social skills), and compass (moral values).The colour gold represents wisdom and generosity while maroon represents perseverance leading to triumph.
Ultimately our motto underscores our philosophy, which is to lead our students from difficulties to honours (per angusta ad augusta).