For latest updates, please visit our Facebook page: www.facebook.com/sridesaigcse/

AN IGCSE TOP SCORER SPEAKS
I had a wonderful time at Sri Desa IGCSE Centre. All the teachers and staff truly cared and were always ready to listen. My suggestions were always heard. I honestly could not have achieved my goals without my teachers' encouragement. I really like the school's positive and conducive environment. The school also encourages students to learn beyond academics. There are always activities for students to participate in, to acquire life skills. After IGCSE and completing my foundation courses, I plan to pursue a degree in Computer Science. I hope the school will continue to provide holistic education and expand so that more students will have the opportunity to grow in different areas.
By Jamie Lai (Graduate) 

QUEEN'S COMMONWEALTH COMPETITION: GOLD AWARD RECIPIENT


Sheryn Low was named one of the Gold award recipients in this year's Queen's Commonwealth Essay Competition.

It took me a long time to come up with an impactful title for my essay and I finally came to a decision that the kuih lapis shall represent my identity as a Malaysian while its colours would symbolize the qualities of the future that I had envisioned, hence the title 'My Rainbow Kuih Lapis Recipe for A Common, Better Future'. I was not expecting to win any award so this good news came as a big surprise to me – as the saying goes, 'Good things come when you least expect it.
By Sheryn Low Yi Pink (Y7)

A SWEET VICTORY
I took up the challenge to participate in the AUSMAT Pitch Competition because I wanted to challenge myself, to do something big and because I wanted to talk about something close to my heart, I chose the topic "Body Stereotypes."
I felt nervous whenever I visualized myself standing alone on stage speaking before a huge crowd as I'd never had such experience. Since a senior of mine, Marsha had won the competition last year, I felt it was my duty to carry on the school legacy. I put so much pressure on myself that I had sleepless nights. So, I can't thank my English teacher, Ms Shena, enough for the time and the effort she put in to guide me with my tone of speech and body language.
On the day of the competition, needless to say, I was nervous but I had my principal, Ms Saw, by my side and to my surprise, many of my peers were there to support me. They assured me that doing my best is more important than winning the competition and I reminded myself that I had something meaningful to say.
When I was named the winner of a full college bursary, I was tremendously shocked and over the moon at the same time. I still remember the words my mother, who was in the audience, uttered to me, "I am proud of you." This experience has taught me to make the most of every opportunity presented to us and to put our best foot forward. You'd just never know what doors may open next!
By Priyaa Thiruventhiran (Y10)

EMBRACING ROBOTICS
Sri Desa's partner, Nullspace Asia, has launched its Centre for Robotics Learning (C4RL-DESA) at the school.
I was over the moon when the news about the school's new programme reached me. Years ago in primary school, I attended a few Robotics lessons but those few lessons were not enough to cure my cravings for robotics invention and programming. Therefore, it did not take me long to consider joining the Robotics Club this year. After all, I am already in my final year. It is now or never! More importantly, introducing the Robotics Club at Sri Desa IGCSE Centre is a brilliant idea because we do need to stay relevant and keep ourselves abreast of the latest development in technology, especially in artificial intelligence.
By Wong Khang Zhou (Y11)
MSSWPKL SWIMMING: 3RD RUNNER UP
I picked up the sport and fell in love with it. By the age of ten, I swam competitively because my goal was to represent our country. Although I did not make the cut, my desire to be competent has never faded. I train regularly and participate in as many competition as my schedule allows. Although I neither improve my personal best time nor bag gold medal, I am happy to have finished fourth because I have recently recovered from three years of back injury. I am certainly glad that Sri Desa IGCSE Centre supports my pursuit. I am putting swimming aside to focus on my academics but I will continue my passion – swimming – to maintain my fitness.
By Lim Shun Hern (Y11)
MSSWPKL GOLF: 4TH RUNNER-UP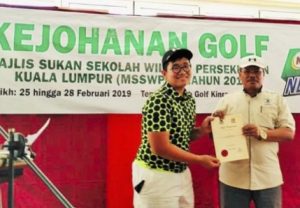 Both of my parents play golf and when I was four, they bought me a plastic club. When they realized that I could play, they bought me a complete set of clubs and hired an experienced coach to train me. I now play two to three days a week for 4 to 5 hours a day. I had once thought of quitting the sport for good. I changed my mind when I met my current coach because he guided me very well – he perfected my swing. My years of playing the sport has taught me to be calm at all times and to not overanalyse a situation. The recent competition was steep and I believe I could have done better if I had the time to play on the course before the competition.
By Justin Chin (Y11)

DEEPAVALI COMMUNITY PROJECT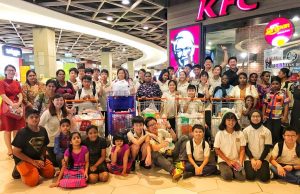 Imagine entering a house smaller than a classroom. At the side of the wall stands a foldable red plastic table and a stack of plastics chairs, with no television, no couch, absolutely nothing! Can you believe that this is a shelter for a family of eight?
The students of Sri Desa IGCSE Centre spent two days visiting a few Indian families before deciding which families the funds should go to and I could still remember a single mother of four telling me how grateful she was for our generosity.
Despite the language barrier, we were able to convey our messages across. I remember the expression on the three- year-old girl as she savoured a fried chicken drumstick. This project taught me to be more appreciative of what I already have and not to complain when things don't seem to go my way.
By Charmaine Lim (Y10)
Project Leader

AN MPO EXPERIENCE

I decided to join my friends from Sri Desa IGCSE Centre to watch the Malaysian Philharmonic Orchestra (MPO) performance because I thought it would be interesting. It turned out to be an amazing performance, one that was beyond my expectations. The conductor, Kevin Hathway's enthusiasm left a deep impression on me and I would definitely make time for such mesmerizing performances in the future!
By Low Ken Zen (Y6)

HARI RAYA CHEER AT THE PAEDIATRIC CENTRE
On the morning of 14th of June, my friends and I arrived at school early. We were excited about our visit to University Malaya Medical Centre. Before hitting the road, our teachers reminded us on the importance of our roles – to cheer up the young patients.
I felt bad for the ill children because they were not able to celebrate Hari Raya with their families and cousins. I could relate to that because I myself was admitted to the hospital last year and I was worried that I would miss the celebration. Luckily, I was discharged on the eve instead.
I was glad that our presence and our gifts of handmade cards, notebooks, food and beverages made the children smile. Their smiles in turn made our day. This visit made me more aware of how blessed I am to be in the pink of health. I believe our society would better off if we cared more for one another.
By Siti Zulaikha Fitriena binti Ahmad Kamsul (Y6)

EDU EXPERTS: TERTIARY EDUCATION ROADSHOW
In early June, Joey Ban who is an education consultant from EDU Experts gave the students from Sri Desa IGCSE Centre a talk on how to choose the right college and university after completing the IGSCE. Representatives from some of the consultancy's partner colleges were also present to give us more clarity on the matter.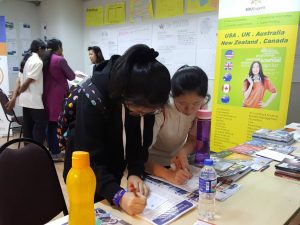 "After attending the useful talk, I am now more certain of the types of colleges that suit me the best. I am also aware of the differences in American, British and Australian tertiary education."
Chan Xin Yuen (Y10)
"Community colleges in America piqued my interest because of their dedication in helping students to achieve greater heights."
Justin Chin (Y10)

A MEMORABLE INDEPENDENCE DAY
This year's Merdeka celebration was much more meaningful because I celebrated it with the entire school and other fellow Malaysians.
Sri Desa IGCSE Centre participated in the carnival organized by Taman Desa Residents' Association (TDRA) in conjunction with our nation's 61 years of independence. The carnival was held at Taman Desa Recreational Park, a stone's throw away from our school.
While some of our schoolmates participated in the Fun Run, my friends and I kicked off our day at the park by getting our school booth ready for visitors.
We decorated our booth to the theme of recycling to encourage the public to reduce the use of plastic bags and to practise recycling as part of their daily routine.
While I handed out leaflets on the IGCSE to curious visitors, the photography team documented the event. I also had the time to walk around the carnival to explore other booths.
I felt very happy to see Malaysians of different races coming together to celebrate our country's independence.
I look forward to next year's celebration!

By Joshua Hon (Y6)
TIME FOR CHANGE!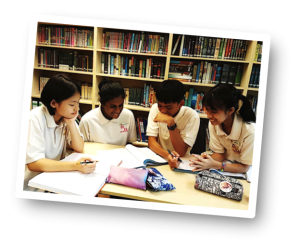 For many years, I never took interest in my studies. Instead of studying for exams and paying attention in classes, I would be busy talking with my friends or even spending endless hours on my computer. I'd even been asked to stand outside the classroom for ill-behaviour. Scoldings? They did not bother me. My parents unnecessarily spent money sending me for courses to improve my studies. I felt that studying was a waste of time. Why study when bingeing on TV was way better?
Then it all changed. I had finished Year 8 in my previous school and had come to Sri Desa IGCSE Centre. However, I had not done well for my placement test and had to stay back in Year 8. While my classmates first knew me as the girl who had to repeat the final few months of Year 8, they were friendly and understanding.
Still, I wanted to prove that I could do well so I studied. Even though I hated every bit of it, I pushed myself. The teachers also made a difference as they were helpful and approachable. When the results for the exams came out, I did pretty well! I didn't get straight A's but I had done much better than before. I felt a rush of joy. I was just so happy that I felt I should continue doing better, and so I did. Suddenly, Mum didn't have to nag at me anymore. I finally realized the importance of education. Since I came to Sri Desa, I have grown so much and I want to do better.
To all my juniors, I know Korean dramas are much more tempting than homework or studying for the IGCSE but don't take these early years for granted or you may struggle in Year 10 and 11. Remember, your life does not get better by chance, it gets better by change!
By Priyaa Thiruventhiran (Y10)
SALUT TEACHERS!
Many students complain about their teachers and the amount of homework assigned to them but they do not credit teachers for the long hours they spend marking students' work, preparing students for the IGCSE and planning events for the school. Have you any clue the amount of effort put into such work? What is a teacher to you?
To me, my teachers are people who work hard to ensure they deliver quality lessons and they are also the ones who provide me with guidance, very much like my parents would. I reckon their advice is as important as my parents'.
Although Ms Anna's Science lessons cram my brain with information, her classes are always entertaining with her jokes. I feel motivated to do well in the subject and her teaching methods work well for me.
I was once stressed out due to a particular duty assigned to me so I spoke to Ms Charmaine about it. She listened to me attentively and gave me short but very good advice.
While some may downplay the role of teachers in their lives, they cannot deny the fact that we absolutely need teachers to be around. Teachers are here to nurture us to be better people. Salut teachers of Sri Desa IGCSE Centre!
By Leong Yong-En (Y9)

KANGAROO MATH COMPETITION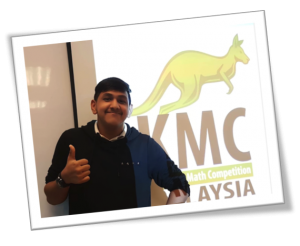 I joined the Kangaroo Math Competition because I simply love Math and I wanted to enrol in something productive. Still, getting a bronze medal was a big surprise! My Math teacher helped us a lot by training us with higher-level questions, not just from the IGCSE syllabus. To the students who plan to join this competition in future, keep attempting mathematical problems as practice makes perfect!
By Darrsheen (Y11)

In conjunction with Earth Day, Sri Desa IGCSE Centre organized a visit to Tzu Chi Recycling Centre to raise awareness on protecting Mother Earth. The centre was fairly large, with bag after bag of recyclables. There were a dozen trash bins, each carefully labeled with the type of materials they contained.
The friendly staff guided us to a seating area where we listened to a talk on the danger of pollution. The number of animals and humans that have died due to pollution and the fact that pollution happens everywhere in this seemingly beautiful planet astonished me, an ignorant when it came to pollution. The centre's dedication to ridding the world of pollution and how they manage to turn recyclables into useful items piqued my interest. Before wrapping things up, we had a first-hand experience in garbage-sorting. The short trip opened my eyes and was indeed one worth my time. Going green, I am now!
By Ng Wei Yi (Y9)

TIPS TO ACE THE IGCSE EXAMS

Good management is the key to improving your IGCSE academic performance. Hence, the question is not whether you have a good memory but rather how well you are able to manage yourself.
Know what distracts you
Keep what distracts you at bay so that you can focus better. You could for instance put your phone away and place books that you currently do not need back on the shelves.
Consume brain-boosting food
Boost your focus and productivity by eating these brain-boosting foods: eggs, tomatoes, grains, blueberries, blackcurrants and pumpkin seeds.
Give your brain a break
Take time off – periodically – from studying or from doing your assignments by taking power naps, doing something that you enjoy or getting in touch with nature.
Come up with a schedule and stick to the routine
Kick off your mornings an hour or two earlier is an idea worth trying because it is proven that studying in the morning is more effective.
By Gun Jo-Ee (Y11)

FUN RUN, FUN TIME!


Sports Day is the day students gather under the blistering sun to compete for their houses. Sri Desa IGCSE Centre had ours in April.
Fun Run is the segment of the event where each house created their very own costumes, banners and other props to go with their respective themes. On top of that, each house came up with a mascot of their very own. This process was very stressful and tedious, but it was all worth it in the end.
I personally think that each house deserved to be the winner because they did a spectacular job but in the end, there could only be one winner and Red House was the winner of this segment.
This event has nurtured a spirit of togetherness and teamwork in every single one of us, which I hope will never die down. I'm looking forward to more unforgettable experiences in the following years!
By Leong Yong Kang (Y7)

SPORTS DAY 2018
Many of us looked forward to 13 April, the day Sri Desa IGCSE Centre held its Sports Day at the stadium of University of Putra Malaysia. It was the time for us to show off our athletic skills. Every house eyed the grand prize; every team wanted to be the winning team.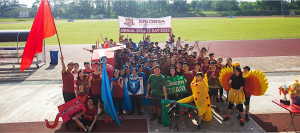 I was appointed the captain of Blue House and I have to say it was not an easy role to play for it was my very first time leading a big group of people. This experience has taught me invaluable lessons. I learnt a lot about how to manage a team and to be the constant source of motivation for others. I realized that a title alone does not suffice to make one a good leader.
Just the previous week, we had our telematch games at the field where every student cheered for their teammates and did their best to finish ahead of the competition. The games were very fun indeed. Green House became the overall winner this year. Although my team was seated at the third place, my team and I were proud of ourselves because we upheld the value of sportsmanship and learnt to work cooperatively. We have, after all, been taught that winning is not what matters the most.
We shall prove ourselves again next year!
By Lesley Chan (Y10)
HOW HEALTHY IS YOUR MIND?
On 17 March 2018, experienced and qualified clinical psychologist Ms Serena In came to Sri Desa IGCSE Centre to give a talk entitled "Families: Let's Talk About Mental Health".
Ms In educated us on depression and anxiety, from the symptoms to ways to overcome them. She also advised us on how we can determine the state of our mental health after answering a questionnaire. Here is what some of our students had to say:
"I am now more aware of the importance of eye contact in conversations." – Darren (Y8)
"I appreciated her advice on how we should support our friends in their time of need. Sometimes they're not looking for a solution, just a listening ear and a shoulder to lean on." – Sunil (Y11)
"I learnt that we should deal with confrontations calmly, instead of shouting and making things worse." – Zen (Y6)
"The talk gave me a clear reminder that it is important to take a depressed person seriously as it means their mental state is fragile." – Sze Monn, (Y8)
"The listening activity was fun and interesting. I learnt how to be a better listener." – Sheryn (Y7)
Attending the talk with our parents was also a memorable experience as we could grow as a family. I hope there will be more to come!
By Ivan Khor (Y8)

A SURPRISING DAY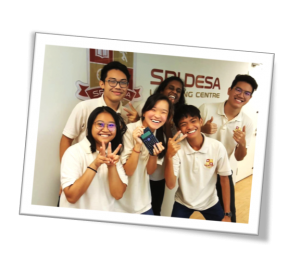 The day I set foot in Sri Desa IGCSE Centre, I sat in a glass room to sit for the placement tests, which I cared less about then because my mind was flooded by the sweet memories I had with my precious friends in my previous school. I was apathetic at this point.
I had forgotten to bring a calculator that was handed to me – neither did the administrator or the student who happened to pass by at the time. Suddenly, the student shouted, "Get a calculator!" A group of students appeared out of nowhere and swarmed me, just to lend me a hand with the calculator! I was, needless to say, very much taken aback by the multitude of faces.
Although it was a rather comical sight, I later found myself truly appreciating their help. The students' eagerness to assist me- a total stranger- truly made me feel welcomed. This is crucial to me as I see my school as my second home. I still sit in my class recalling that very day and the thoughts put a smile on my face – yet again.
By Chloe Ng (Year 10)

FEED YOUR BRAIN!
Are you reading enough? How much is enough? After speaking to more than thirty students in my school, I found out that majority of them enjoy reading and they read at least a book a week. Some read two or three books a week because to them, one a week is simply not enough!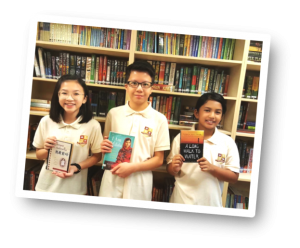 I was ecstatic when I found out that Sri Desa IGCSE Centre had a Literature Appreciation Programme (LAP). Through this programme, I believe my peers and other students will improve our English proficiency and have greater appreciation for the beauty of poetry, short stories, and novels. Here's what some of them had to say:

"The story is interesting. Through Salva, the main character, I learnt that one should remain calm in the face of chaos. Salva also taught me to persevere and not give up in difficult times."
Linaysha (Year 6), on A Long Walk To Water
"I find the novel enjoyable because I could learn about Pakistan's history and culture.
Moreover, Malala's dogged persistence in fighting for gender equality in education is truly impressive."
Keegan (Year 7), on I Am Malala

"Although Adeline's childhood was void of love and happiness, she was able to focus on her life goals and eventually become an anesthesiologist, and later an author."
Jing Xuan (Year 8), on Chinese Cinderella
If you reckon you are not reading enough, then you should start right away! Take this article as a start. Even if you think you have read enough, keep on reading! Research has proven that reading improves our memory, keeps our brain sharp, lengthens our attention span and makes us more empathetic. That sure sounds good to me!
By Khoo Sze Monn (Year 8)
THE VOICE: VISIT TO ST MARY'S NURSING HOME
With the new year, came a new club – The VOICE (i.e. Volunteering Out In Communities Everywhere), which the school deemed as crucial to developing students' social consciousness. The members of the club had recently organized a visit to St Mary's Nursing Home to have an early Chinese New Year celebration with its residents.
Countless Sri Desa IGCSE Centre students had contributed donations, which consisted of essential goods for the home and assisted in preparing for the visit. Besides decorating the interior of the premise to welcome the brand new year, some of the club members also put smiles on the residents' faces with their lovely serenade.
The club members said the visit was an eye-opening experience and has taught them valuable life lessons such as organizing a visit and managing a tight budget. One said she was glad that she was put out of her comfort zone and she hopes to see more positive changes in the community. More importantly, everyone felt happy that they were able to make a connection with the elderly folks and turn an otherwise mundane day into one that is special.
By Jamie Lai (Year 11)
NEW GOALS FOR A NEW YEAR
In the first week of school, our homeroom teachers told us to set personal goals for this year. Here are some of the goals my schoolmates have set!
Academic

"I want to better my English score by reading a storybook every Saturday." – Oscar, Year 8
"I want to get at least 85% for all subjects for the mid-year exam in preparing for the IGCSE." – Yong-En, Year 9
Physical
"I want to sleep at 10.30pm in order to get 8 hours of sleep daily." – Ke Xin, Year 10
"I want to be the best futsal player in the team." – Ariffin, Year 9

Social
"I want to expand my circle of friends." – Kesnavi, Year 9
"I want to get to know every student in Sri Desa IGCSE Centre by end of January." – Priyaa, Year 10

Moral
"I want to be a responsible gentleman." – Zheng Xuan, Year 10
"I want to help out at animal shelters." – Wei Yi, Year 9
Although achieving every single goal is not easy, we can follow through on our goals with our motto in mind- per angusta ad augusta- which means through difficulties to honours. Let's strive on to achieve our goals!
By Chen Cheok Hei (Year 8)

THE CIRCLE OF LIFE
Have you ever wondered what it is like to be in a room of roaring lions, ravenous hyenas, and a noble red-billed hornbill? Let me tell you, it is a truly other-worldly experience. I know this for certain because last year, on the 26th of November, Sri Desa IGCSE Centre produced The Circle Of Life, a play inspired by a Disney's original, The Lion King.
Producing a play is no mean feat but everyone involved in the play poured their blood, sweat and tears into every single detail: from casting to prop making, costume design and stage setting. It was endless hours of rehearsals but fruitful they were!
Everything went extremely well and the show was simply amazing. The play was held at Theatre KuAsh, Kuala Lumpur, and the stage was so big, it could fit four cars! I reached the theatre at 7.30am and found the props team setting the place up, the singers rehearsing, and teachers magically turning the cast into African beasts backstage. At about 10.30am, stage rehearsals began and our principal, Ms Saw, worked with our technical crew on lighting and sound directions. Mr Scott, the drama coach, also arrived early to give the cast a pep talk.
The show started an hour after rehearsals and soon, the theatre was filled with parents grinning from ear to ear, eager to see their children perform. Once the audience settled down, the show began.
"Nants ingonyama bagithi Baba!!!!" A single spotlight shone on the stage as striped zebras, graceful leaping antelopes, and tall giraffes came on to stage. Impressively, the play continued to drop jaws with the paper leaves, the sparkling dance fairies, and phenomenal drama.
After the final bow, applause filled the theatre and the actors, dancers and singers headed to the lobby, where friends and family continued their praises for our very first production while capturing photos- keepsakes of the memorable event. Victor Loo, who played the character Scar, gushed, "I really enjoyed being part of the play. All the effort was truly worth it!" I sure echo that!
By Lee Marsha (Year 11)
INTERNATIONAL YOUTH DAY
Thinking of the event that I hosted on International Youth Day still brings out the excitement in me. The day kicked off with an opening speech by our principal Ms Saw. Then, we watched the Yellow and Green teams compete in the Masterchef Cook-off Finale! While the participants prepared their final dishes with eggs and honey as the mystery ingredients, we watched a video showing their journey to the finals. Thirty minutes flew by and Yellow team emerged as victors after such a close competition! We then enjoyed a performance featuring dances from around the world, i.e. Scottish dance, K-pop, hip hop, Indian and Chinese dance by the Dance Club. After a video screening on Malaysian Heroes prepared by the New Media Club, the event came to an end with a beautiful music performance by the Stomp Club, singing a medley of Spanish, English, Malay and Hindi songs. Being part of the event, especially as a host, was an awesome experience. I would be happy to host such an event again in future!
By Sharmila Jan (Year 11)
ON THE BIRDS AND THE BEES
Mr Jeremy, a counsellor for couples, shared with us among other things, the harmful effects of pornography. It was absolutely a bad idea to watch pornography as it causes viewers to perceive girls as objects, and destroys relationships. We were all ears listening to him as he spoke about the need to build healthy relationships instead. When the talk ended, the meaning of healthy and respectful interactions became clearer to me. I am grateful that Mr Jeremy took the time to come to our school and talk about the importance of building healthy relationships.                        
By Russell Yap (Year 7)
THE TALK
"During this time of your life, there will be a lot of changes," Ms Sharon counseled the girls about the teenage years. Ms. Sharon spoke with a lot of confidence and she wasn't awkward at all when we asked her uncomfortable questions.
The main highlight for me was when she talked about self-confidence. She told us that at some point in our lives, we will see the world differently. We may hate our body, hate the way we look but we shouldn't allow people's opinions to affect our self-image. Those words sunk into my brain. It was just like she had read my mind.
I really hope that Sri Desa IGCSE Centre has this talk for many years to come because it helped me see myself in a positive light.
By Priyaa Thiruventhiran (Year 9)
RACE IN THE WILD
Being able to tackle the wild is both awesome and scary. But to become a wilderness explorer is amazing, and that was exactly what I was during our annual school camp in Nur Lembah Pangsun, Ulu Langat.
We were divided into six groups and we had to complete two tasks. My group went first by going up a steep tar road and walked under the blazing sun to an open field. A safety instructor waved at us and instructed us to build a small fire to cook a potato. I gathered some big, dry leaves and twigs while my teammates collected sticks and bamboo to start the fire. 15 minutes later, we had a scorching flame over which we cooked our potato.
We ate the tasteless piece of carbohydrate, which was nevertheless warm and soft and proceeded to the next checkpoint at the retreat to complete the next task: identifying 10 different types of leaves from fruit trees. We walked around the vast campsite and found trees of many species: rambutans, coconuts, durians, bananas – they seemed to have it all! We finally completed our task and went to the instructor for his approval.
Of course there were other activities that made me a wilderness explorer but these two were tiring but fun, and that was what camp was all about.
By Leong Yong-En (Year 8)
TEAMWORK MAKES THE DREAM WORK
On 31 July 2017,Sri Desa IGCSE Centre had a mixed friendly match with Alice Smith International School.
After we shook each other's hands, the match started and we set off in high spirits. As the match continued, something stirred within my soul. "Here!" Yet Le called for a pass. As soon as the ball reached his hands, he took a shot. As the ball got closer to the rim, my mind was started whirling with excitement. Swish! The ball went into the basket without even touching the board. I winked at him and gave him a thumbs-up. The match ended after 30 minutes and we had a very close win.
During the match, every player tried their best to help the team score. "Talent wins games, but teamwork and intelligence wins championships," Michael Jordan once said. I believe that nothing can stop us from winning if we keep moving as a team.
By Choong Zheng Xuan (Year 9)
NEVER GIVE UP
"Communication." "Teamwork." "Perseverance."
These were some of the points brought up during the boys' reflection session at the end of our futsal friendly with Dream Village Football Academy on 12 July 2017. When we first heard we were representingSri Desa IGCSE Centre, we did not know what to expect. Are we good enough? What would the other team be like? And so we trained.
During the match, we observed how the other team communicated well and had good chemistry – something we could all pick up! Although we lost the match, rather than feeling upset we all felt happy we did our best and had fun playing. "Never give in or give up easily on a cause," Alex Ferguson remarked. Next time, we'll be ready!
By Darrsheen (Year 10)
A HARI RAYA SYMPHONY
"Selamat Hari Raya…" These words stuck to my mind throughout the whole Hari Raya celebration. The celebration, which was held at Sri Desa IGCSE Centre on 7 July 2017, was a fun-filled and eye-opening experience. I was able to learn more about Malaysia while enjoying different activities and performances my peers and I had prepared.
"The Stomp Club!" Ms. Joyce, the MC for that day, called our names. We were all shaking in our boots. However, we composed ourselves and proceeded to the stage. Our performance started off with a bang! My friend, Joseph, started with a solo dance that lit up the atmosphere. Not only did it energize the crowd but also gave us the boost to carry on. As Malaysia's favourite Hari Raya track 'Balik Kampung' came on, everyone began singing at the top of their lungs, even the audience. It was truly a sight to behold.
Once in a while, we must experience these things not only to have fun, but also widen our knowledge of different cultures and beliefs. Sri Desa's Hari Raya celebration was truly a wonderful time.
By Rean Regno (Year 9)